Uncategorised
Details

Written by

Eddy Lanz

Category: Uncategorised
Hits: 8169
as part of the Holy Bible is a very important source for the spiritual life of the worldwide Church. Most modern Translations are based on it and so it continues to influence the lives of millions.
SBL Greek New Testament Audio Files
The letters of the Corpus Paulinum, the Catholic Epistles and the Revelation of the Greek New Testament (according to the SBL Greek New Testament which is available here: http://www.sblgnt.com/download ) in audio format can be downloaded for free from here.
Synopsis and Vocabulary
Basic New Testament Greek (Free Book and Audio Files)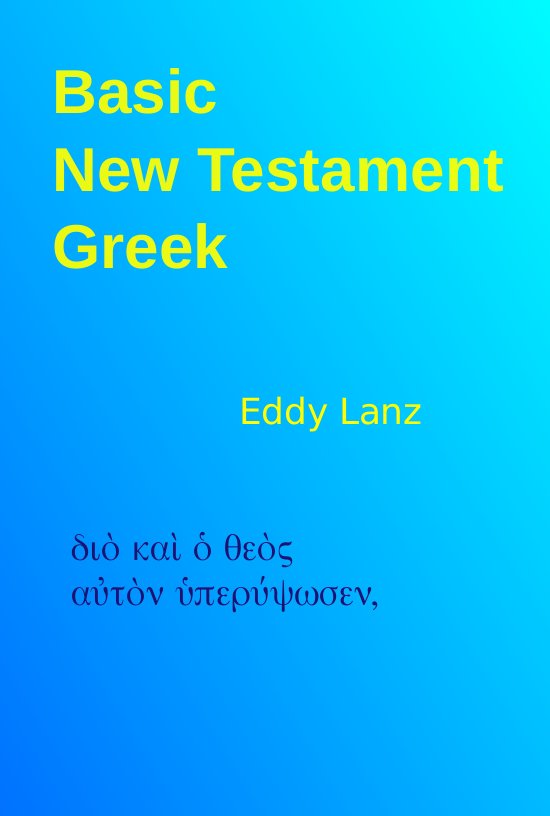 The audio files beneath give the forms of the verbs and the nouns and the vocabulary lists of the "Basic New Testament Greek" by Eddy Lanz. 
01 The Alphabet
01 Vocabulary
02 Present Tense Indicative
02 Vocabulary
03 Forms of 2. Declension Masculine
03 Future Tense Indicative Acitve
03 Vocabulary
04 Imperfect Indicative Acitve
04 Forms of 2. Declension Neuter
04 Vocabulary 2. Declension Neuter
05 Aorist Active Indicative
05 Forms of 1. Declension Feminine
05 Vocabulary 1. Declension
06 Forms Perfect Indicative Active
06 Vocabulary Small Words 1
07 Forms Pluperfect Indicative Active
07 Forms of 3. Declension Stems
07 Vocabulary 3. Declension
08 Present Active Subjunctive Forms
08 Aorist Active Subjunctive Forms
08 Vocabulary Small Words 2
09 Present Active Imperative Forms
09 Aorist Active Imperative Forms
09 Vocabulary Prepositions 1
10 Active Infinitive Forms
10 Vocabulary Prepositions 2
11 Active Participle Forms
11 Vocabulary 1. and 2. Declension Adjectives
12 Present Passive Indicative Forms
12 Imperfect Passive Indicative Forms
12 Vocabulary Contracted Verbs
13 Future Passive Indicative
13 Aorist Passive Indicative
13 Vocabulary Deponent Verbs
14 Perfect Passive Indicative Forms
14 Pluperfect Passive Indicative Forms
14 Vocabulary Mi-Verbs
15 Present Passive Subjunctive
15 Aorist Passive Subjunctive
15 Vocabulary Numbers Etc.
16 Present Passive Imperative
16 Aorist Passive Imperative
16 Passive Infinitives
16 Vocabulary Small Words 3
17 Present Passive Participle
17 Future Passive Participle
17 Aoritst Passive Participle
17 Perfect Passive Participle
17 Vocabulary Verbs
18 Future Middle Indicative
18 Aorist Middle Indicative
18 Vocaburlary Verbs
19 Aorist Middle Subjunctive
19 Aorist Middle Imperative
19 Vocabulary Verbs
20 Middle Infinitives and Participles
20 Vocabulary Concluding Grace

Selected Greek NT Verses Audio Files
mt0121to0613.mp3
mt0624to1033.mp3
mt1128to1906.mp3
mt2028to2240.mp3
mt2337to2820.mp3
mk-0115to-lk0249.mp3
lk-0418to-1411.mp3
lk-1510-to-1938-st.mp3
lk-2119-to-2447-st.mp3
jn-0114-to-0812-st.mp3
jn-0824to1140-st.mp3
jn-1315to1837-st.mp3
jn-1905to2031.mp3
acts-0108to2828.mp3
rom-0116-to0801.mp3
rom-0814-to-1310.mp3
rom-1312-to-1cor-1510.mp3
1cor-1514-to-2cor-0517.mp3
2cor-0519togal0506.mp3
gal-0522-to-phil-0211.mp3
phil-0212-to-1tim-0116.mp3
1tim-0203-to-Phlm-14.mp3
heb-0103-to-1316.mp3
jas-0112-to-2pt0313.mp3
1jn-0105-to-jude0125.mp3
rev-0108-to-2220.mp3
Details

Written by

Eddy Lanz

Category: Uncategorised
Hits: 9014
and welcome. I am Eddy Lanz and I have been teaching the Holy Scriptures for some years now, in German, English and Urdu. While you teach, you produce materials, outlines, articles. Here is some of it. I hope, you will enjoy it.
Some of the files in the Urdu section are pdf-files with embedded Urdu fonts. You will be able to read them with a good pdf-reader like the one from Adobe .
To read the html-files you will need to have an Urdu font installed. The html-files are written with the Nafees Web Naskh ttf-fonts which you can get from http://www.cle.org.pk/, that means from here.
God bless!
Old Testament
Genesis: Toledoth

Genesis: Toledoth of Tarah

Exodus Outline

Exodus: 10 Commandments

Exodus: Book of the Covenant

Leviticus Outline

Numbers Outline

Numbers: Census

Deuteronomy Outline

Deuteronomy: 10 Commandments as Topics in 12-26

Joshua Outline

Judges Outline

Judges: Years

Samuel Outline

Kings Outline

Isaiah 1,1-2,1 Outline

Isaiah 2,1-13,1 Outline

Isaiah 40,1-52,12 Outline

Isaiah 52,13-66,24 Outline
The Prophecies about the Servant of the Lord in Isaiah and their fulfillment in Jesus Christ
New Testament
Romans 9 to 11: God's way with Israel
1 Timothy Outline

Revelation Outline

The Three Sevener Cycles in Revelation
Subjects
The Second Coming of Jesus Christ (Amde Sani)
Important Texts about the Last Days
Bible Reading Schedule in Urdu
Church History in Urdu by Dieter Becht, 4.7 MB pdf
Subcategories